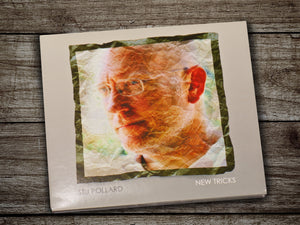 NEW TRICKS is Stu Pollard's debut CD as a singer-songwriter. He plays keys and sings on seven original pop/rock songs, which collectively share influences such as Brian Adams, Phil Collins, Joe Jackson, and even KC and the Sunshine Band. Pollard collaborates with an impressive array of musicians including guitarist/bassist Todd Smith (who also produced), guitarist Doug Derryberry, drummer Gerry Hansen, vocalist Lesley McFerron, percussionist Jake Englert, and a number of other special guests.
The CD is a digi-pack that features alternate versions of two tracks as well as a 10-page, full-color foldout that includes photos and lyrics.
To request a digital download, please send a message to store@lunacyproductions.com.
TRACK LISTING:
"There Comes a Time"
"Unconditional"
"Someday"
"By Design"
"Don't You Know"
"I Swear I Can See"
"Happiness"
"By Design" (Radio Edit)
"I Swear I Can See" (Alt Rap)
All songs written by Stu Pollard All songs published by Don't Dog Me Songs (BMI) © 2011 Lunacy Unlimited Productions Inc./Stu Pollard.