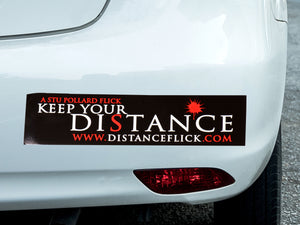 A PORTION OF ALL PROCEEDS OF THIS ITEM WILL GO TO SUPPORT THE COMMUNITY EFFORTS OF OUR NONPROFIT PARTNER, TRUNACY.ORG.

This year, Lunacy is celebrating the 15-year anniversary of its second feature, Keep Your Distance.

Little did we know that in 2020, that phrase would take on a whole new meaning.
As we all need to support each other during this challenging time, we will donate a portion of proceeds derived from the sales of any Keep Your Distance merch to our nonprofit partner, Trunacy. This will continue until at least 12/31/2020.
..................

Finally a bumper sticker that both shows your love for a movie and displays a warning for the cars behind you!