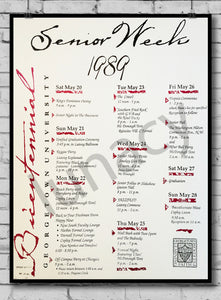 If ever there were proof of simpler - and less closely supervised - times, look no further than this poster, which provides painstaking detail of the Class of 1989's epic Senior Week. Spanning 9 days and nights from May 20th to 28th, this itinerary makes many stops along memory lane, including Derryberry & Alagia, the Road Ducks, Two Spent, the Bedrocks, Class, and long since defunct Crawl. Our fully restored digital reproductions are printed on photo quality paper, making them virtually impossible to distinguish from the original, right down to the oddly dated approval stamp (May 27th) from the Student Activities Office.

Dimensions: 18" x 24"
Frame not included.
Please allow 1-4 weeks for delivery. Contact us directly for expedited options.