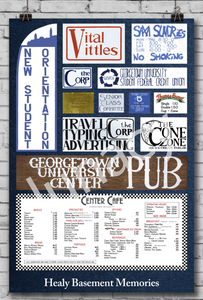 EXCLUSIVE ITEM. AVAILABLE HERE ONLY.
If you attended Georgetown in the 70's or 80's, you spent an inordinate amount of time in the always friendly, usually crowded, and never clean Healy Basement. Now, thanks to the efforts of the Class of 1989 Reunion Production Design Team, you can flash back to many of the staples of our legendary underground haunt, as this new poster contains faithful recreations of the signs for the Vittles, Saxas, Corp Travel, the Center Café, and of course the Pub (and many more). The Café menu board even has all the detailed pricing (circa 1987), so you can see just what a bargain a Chicken Club was back in the day!
Dimensions: 24" x 36"
Frame not included.
A portion of all sales of this product will be donated to the Georgetown Scholars Program on behalf of the Class of 1989.