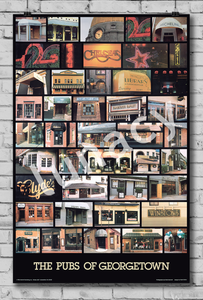 The Saloon, Mr. Smiths, Poseurs, Garretts...and the list goes on. All your favorite Georgetown watering holes from the 1980's appear in this iconic poster we have digitally restored thanks to an alum who kept a perfectly-preserved copy. Only a handful of the 42 establishments represented in this 1986 time capsule remain in business today, but the memories from each of them will live on forever.
Dimensions: 24" x 36"
Frame not included.
A portion of all sales of this product will be donated to the Georgetown Scholars Program on behalf of the Class of 1989.